Huntsville, Alabama, Maple Hill Cemetery - In Memoriam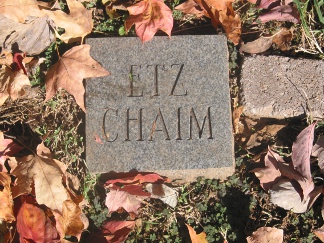 Etz Chaim - Tree of Life. Marker adjacent to Jewish Gravestone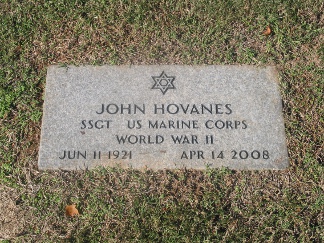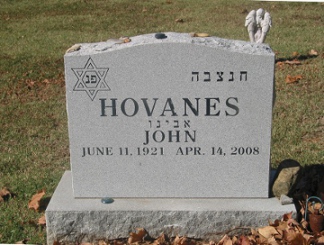 John Hovanes
The inscription in the Shield of David is an abbreviation for po nikbar or po nitman, meaning "here lies."
The inscription at the top right is an abbreviation of a verse from the Bible from the first book of Samuel, 25:29, "May his soul be bound up in the bond of eternal life".
June 11, 1921 - April 14, 2008
John Hovanes, 86, of Huntsville passed away Monday. Mr. Hovanes, a survivor of Pearl Harbor, served throughout World War II in the Pacific Theater and was present at Okinawa. He was a retired aerospace engineer and sculptor. He received his degree in fine art from Canterbury University in New Zealand. Survivors include his wife, Cecily Hovanes; sons, Michael, Stephen, Robert, Peter, Bruce, and Kenneth Hovanes; and nine grandchildren.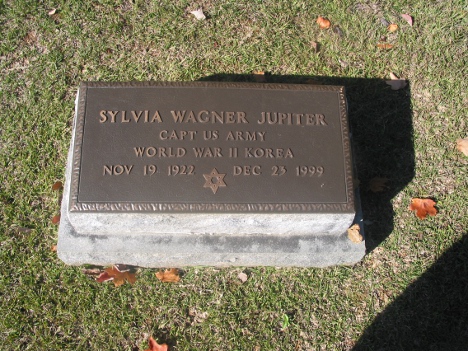 Sylvia W. Jupiter

Sylvia Wagner Jupiter, 77, of Huntsville died Thursday in Puerto Limon, Costa Rica. The funeral will be Sunday at 3 p.m. at Laughlin Service Funeral Home chapel with Rabbi Bernard Brown officiating.
Burial will be in Maple Hill Cemetery.

Mrs. Jupiter was a veteran of the Women's Army Corps before retiring with the rank of captain and was a life member of the Retired Officers Association. She was a member of Temple B'nai Sholom where she taught Hebrew school and was active in the sisterhood. She was a life member of Hadassah and served as treasurer of the local chapter for 20 years. She worked as a volunteer in the Meals on Wheels program and the Interfaith Volunteers Transportation Service.

Survivors include her husband of 44 years, Alvin M. Jupiter; two daughters, Karen Pline of Marietta, Ga., and Ellen Hernandez of Lafayette, La.; two brothers, Joseph Wagner and Phillip Wagner, both of Jackson Heights, N.Y.; and five grandchildren.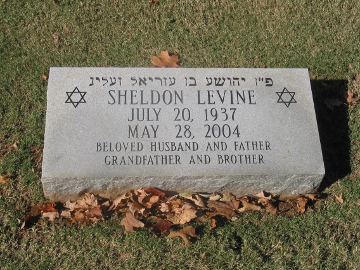 Sheldon Levine
Sheldon Levine, age 66, of Anthem, passed away Friday, May 28, 2004 after a valiant battle with cancer. He is survived by his wife Mary; son Steve (Tori) of Irving, Texas; daughters Sharri Boyett of San Marcos, Texas, and Tamara Levine of Houston; step-daughter Julie Melson of Phoenix; two grandsons and one granddaughter; and brothers Allen (Marlene) of El Paso, Texas, Seymour (Marjorie) of Marietta, Ga., and Neil (Laurie) of Cherry Hill, N.J.

In 1958 he graduated from New York City Community College with an associates degree in electrical engineering. Sheldon worked as a telemetry designer on the Saturn Project and then moved to Houston, where he worked on several Apollo Space Missions. He returned to Phoenix 26 years ago from Pennsylvania. Most recently he was a consultant employed as a Certified Software Test Engineer. He enjoyed hunting and working on his cabin in northern Arizona. Sheldon will be buried in Huntsville, Ala.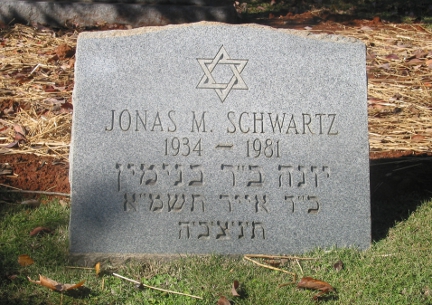 Jonas Schwartz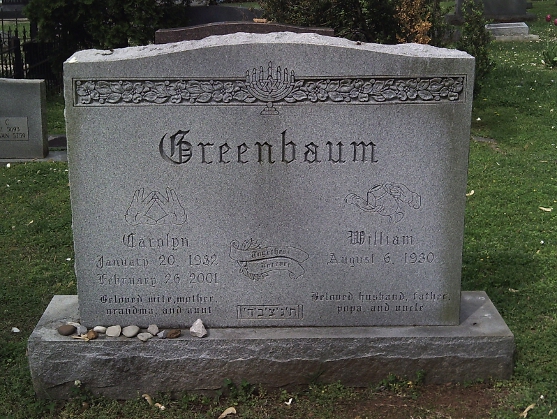 Carolyn & William Greenbaum

The two hands above Carolyn's name are arranged for the Priestly Blessing. This is a symbol of the Kohen or Cohen (Hebrew for priest). The plural form is Kohanim or Cohanim. Kohanim are assumed to be direct male descendants of Aaron, who was the first Kohen and the brother of Moses.

In addition, the Levis would wash the hands of the Cohanim before they performed their priestly duties as shown above William's name.

Web Links
http://www.jewishgen.org/infofiles/tombstones.html
http://www.flora-and-sam.com/finalversion/finishedversion/pages/CemeteryMain.htm
Kavod Hamet - respect for the dead
Pebbles
It is Jewish custom, to place a pebble or small stone on a grave when one visits a cemetery. This is intended to convey a three-fold message. "You are not forgotten." "See, I have been here." "I have added to your monument."
Also, by placing a stone we further participate in the "construction" of the tombstone -- which in itself constitutes a Mitzvah.
Shalom,
Tom Irvine Email: tomirvine@aol.com